[ad_1]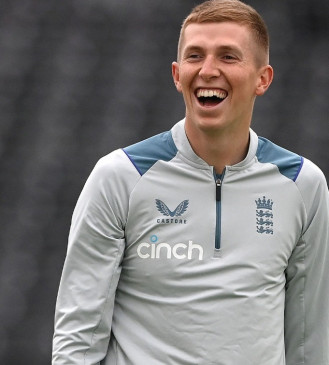 Digital Desk, Manchester. England pacer James Anderson lauded opener Jack Crawley's unbeaten 17-run knock where he shared a half-century with Jonny Bairstow in the second Test at Old Trafford. England, after suffering an innings defeat in the First Test at Lord's, bundled out South Africa for 151 on the first day of the Second Test at Old Trafford, but by the time of tea session, England had lost 3 for 43.
Their batting once again looked weak, though Crowley scored an unbeaten 17 off 77 balls. By the end of the first day, England made 111 for the loss of 3 wickets. Anderson said, "I thought Jack did a great job for someone whose output for him isn't as good as he'd like it to be." "He read the situation and played exactly as we needed to," Anderson was quoted as saying by the Daily Mail.
Crowley has been in poor form for a long time at the top, with the 24-year-old opener scoring just nine and 13 runs in the opening Test at Lord's, which England lost by an innings and 12 runs within three days. The right-handed batsman has so far not scored a single half-century for his country in 10 innings this season.
Earlier, bowler Anderson registered a score of 3/32 at his home ground and became the first player to play 100 Tests in his own country.
Source: IANS
Disclaimer: This is a news published directly from IANS News Feed. With this, the team of bhaskarhindi.com has not done any editing of any kind. In such a situation, any responsibility regarding the related news will be of the news agency itself.
,

[ad_2]

Source link