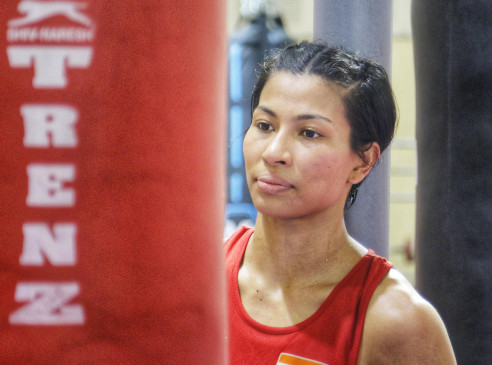 Digital Desk, New Delhi. Despite winning an Olympic bronze medal, boxer Lovlina Borgohain does not want to take any rival lightly at the upcoming Commonwealth Games 2022 in Birmingham from July 28 to August 8. The 24-year-old boxer from Assam said she made some mistakes at the World Championships, where her campaign ended in the pre-quarterfinals. With a target of gold, she is now set to excel in the Commonwealth Games 2022.
Asked about the level of competition in the Commonwealth Games as not many world-class boxers are participating, Lovlina told IANS on the sidelines of the ceremonial farewell to the Indian contingent's event in New Delhi, "Every international competition is tough. it occurs. I don't want to demean it by saying that CWG is not a tough tournament. You have to be ready for tough encounters. Like every international tournament you need to be mentally strong to handle the pressure of the match while facing very experienced boxers.
"The main thing is that I was not that strong mentally in the World Championships. I could not concentrate properly. I have worked on that. I have worked hard on my mistakes, which I did in the World Championship.
The boxer had to go through a lot of ups and downs and his preparation was also hampered due to the COVID-19 pandemic. However, she cemented her place in the Indian squad for the CWG in the 70kg event with a 7-0 win against Railway Pooja in the selection trials held in Delhi.
Lovlina created history when she won a bronze medal in the 69 kg category in the women's sport at Tokyo 2020. She became the third Indian boxer to win a medal at the Olympics after Vijender Singh (bronze in Beijing 2008) and Mary Kom (bronze in London 2012).
Asked about his chances of winning the Commonwealth Games, he said, "When you achieve something, people expect the same thing in every event. With hard work and rigorous training, I will try my best to win a gold medal in the Commonwealth Games. But it would be difficult for any athlete in international events to say that yes, I am going to win that particular medal.
The player, who won back-to-back medals at the World Championships in 2018 and 2019, said, "Hopefully I will continue my good performance and eventually win a gold medal at the 2022 Commonwealth Games." Like every athlete, Lovlina is determined to change the color of the medal in Paris in 2024. "My ultimate goal is to win a gold medal in Paris.
(IANS)
Disclaimer: This is a news published directly from IANS News Feed. With this, the team of bhaskarhindi.com has not done any editing of any kind. In such a situation, any responsibility regarding the related news will be with the news agency itself.